Professional Golf Club Fittings
The game is difficult enough without trying to play it with equipment that does not fit you. Get Unlimited FREE Golf Lessons with all fittings and club purchases!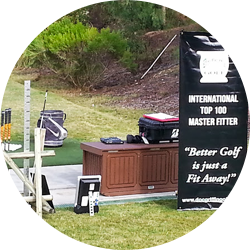 Full Service Golf Club Fitting
The primary purpose of a fitting is to identify and establish the club specifications that will assist you in playing your best golf on a more consistent basis. The game is difficult enough without trying to play it with equipment that does not fit you. In order to improve your game it is imperative that your equipment "fit" you. If it doesn't, you will not play your best! All pros play with custom fit golf clubs. They know that custom golf clubs made to their specifications perform better, and take advantage of their swing.
Custom Golf Club Fitting
We believe no golf club should be made based on the golfer's gender or age. We believe all golf clubs should be built based on the individual's golf swing. In a true custom fitting environment, there is no man, woman, junior, senior or disabled. There is only one concern and that is the individual's swing dynamics. The club fitter's job is to observe, analyze and determine what head/shaft/grip combination is best suited for the individual and have their custom golf clubs built accordingly.
Unlimited FREE Golf Lesson Package
We take our mantra that "Better Golf Is Just A Fit Away!" quite seriously and to further emphasize our desire to help you improve your golf, we are offering Unlimited FREE Golf Lessons with every fitting and club purchase!  No one else in the industry is doing that!  While we know it's important to have the proper equipment, we also know it's equally as important to understand how to use it.  For this very reason we are making this offer to all our customers!
What makes our golf club fitting process unique?
While we are by no means the only entity that does fittings, we are truly one of a kind. Most places that offer fittings will fit you for flex of shaft, lie of club head, length of shaft, and size of grip using simulators or what have you. That is 4 items. Our fittings cover 21 different items in the process and we are using "state of the art  3D Doppler radar in our fittings. That one fact makes us unique!
We also have the ability to do "long distance" fittings. We have a rather extensive questionnaire that allows us to gather necessary information to build clubs tailored to your specs. More information is available on our "Long Distance Fitting" page.  We also have the ability to take our "show" on the road with our mobile fittings.  Long distance fitting and bringing the fitting to you also make us rather unique.
But what truly makes us unique is what we do with the fitting data and information after it has been collected. We use a golf specific software program designed to pick the best possible shaft for each individual from a data base of well over 400 shafts.* NO MORE GUESS WORK!  No one else around has this capability.
Once the proper shaft is selected, we TRUE each and every shaft for consistent and uniform performance and then build each club with the shaft in the optimal playing position. So, if you want the best, most thorough, and complete fitting available as well as top pro line equipment that has been precision engineered and crafted especially for you, please use the "contact" page to receive more information! We also have a different take on some of the things that the equipment industry has tried to "sell" you especially in regards to head size and shaft length.
*A word of caution here-most places that do fittings will recommend a particular shaft flex based solely on swing speed. The flex of a shaft is rated using just the butt frequency. Proper shaft selection has to include the entire shaft's profile in consideration of the dynamics of the golfer's swing. Proper shaft selection is crucial to the performance of the golf club as well as head weight, position of proper weight in the club head, balance point of the club, MOI of the club, etc.
Also, remember that with each fitting and club purchase we are offering FREE UNLIMITED LESSONS to help you improve your golf game as well.  Having proper equipment is certainly important but it is just as important to have the understanding of how to use it.  You will have unlimited access to our master teaching professional to help "work" out any swing flaws and to develop an understanding of how to execute a proper golf swing.
Doc got my attention right away when he first said "this isn't my first rodeo." It didn't take long to realize I would benefit from his vast club fitting experience. His disciplined procedure to find the right club for my game impressed me. I expect with the new Doc Griffin clubs in my bag I will have the equipment to improve my game. Next is to work on my mental game but I can't afford a psychiatrist.
Having never had a club fitting other than thru the likes of Golfmart. etc., I thoroughly enjoyed my time with Doc. He checked my swing with several of my clubs and proceeded to assemble a driver and iron that I had immediate positive results. Pretty impressive when combined with the fact that he also worked on my balance and alignment. Truly a great experience and looking forward to receipt of my new clubs.
What We Measure
Launch angle
Carry distance
Total distance
Ball speed
Ball spin rate
Swing speed
Swing tempo
Angle of attack
Angle of ball descent
Centeredness of impact
Lie Angle
Grip Size
Expectations
Our relationship is actually just beginning when you have your fitting and receive your precision engineered equipment. Once you have your equipment, our commitment to you is that we will work with you on any thing that you feel needs to be adjusted or tweaked. If you need questions answered, we're here to answer them. If you ever have a problem with a product or our work, we will make it right at no extra charge, guaranteed! One thing we want to impress upon our customers is that they are never "stuck." We are here to work with you in any way that we can.
The Numbers
Once we have all the measurements, we will sit down with you and go over each one, what they mean and how they relate to you as a golfer. We will then make our recommendations as to type of club head, shaft, and grip and why we recommend what we do.
Once the decision is made as to the WHAT and you understand the WHY, we then painstakingly begin the process of building your clubs. Our standard procedure with building involves orienting the shaft in its most stable and playable position in the club head, balancing the set or club out with the correct frequency, making sure that the set is MOI matched and correct for you, and that the lie angle, grip, length and vibrational frequency are all correct for you.
3D Doppler Tracking Golf Radar
Technology has taken sports to a level of competition unlike anything seen before. More accurate sports measurement systems have resulted in improvements in many aspects of many sports – not only for players, but for spectators, too. One such technological advent is that of 3D ball tracking. This is great for golfers, for example, who are looking for a ball tracking monitor or 3D golf radar and a method of golf swing analysis that provides genuinely useful feedback. If you've been wondering how 3D Doppler tracking works to enhance your game, wonder no more!
The secret of FlightScope's 3D ball tracking success lies in the patented phased array tracking technology that is used in the device. The two main technological aspects of the FlightScope 3D motion tracking device are its radar technology (very similar to that which is used in the military), and its advanced industrial electronics. So what does this mean for you in a practical sense? Well, it means you have access to a level of ball measurement and ball tracking that is difficult to beat.
How does the 3D Doppler Tracking Golf Radar work?
FlightScope's 3D ball tracking devices and golf radars can measure a number of variables related to golf balls.
Real-time tracking
Ball speed
Vertical and Horizontal launch angles
Sidespin
Backspin
How does 3D Doppler Tracking Radar work with golf clubs?
Flightscope's 3D motion tracking devices are not just about ball measurement; they can also help with your golf swing analysis by measuring variables related to your golf club, such as:
Club head speed
Club vertical attack angle
Club horizontal attack angle
Club face angle
The ball's trajectory after it has been launched is also measured, which means you have exceptionally comprehensive ball measurement information instantly available, aiding you in your ongoing quest to improve your golf swing.
Professional Golf Club Fitting Videos
Watch Master Club Fitter Doc Griffin as he goes through the entire golf club fitting process.
Custom Fitting vs Standard Clubs
Facts about the Golf Industry
What A Club Fitting Will Not Do
Book A Fitting
The game is difficult enough without trying to play it with equipment that does not fit you. Schedule an appointement with Doc Griffin to learn how a custom golf club fitting can change the way you play for good!