Professional Club Fitting
Better Golf Is Just A Fit Away!
If you're looking for a high quality, knowledgeable, thorough, and professional golf club fitting service, you've come to the right place!
At Doc Griffin Golf, we'll give you exceptional service and unmatched personal attention and satisfaction. We have extensive experience with golfers of all skill levels from beginners to PGA Tour players and can provide you with the best custom golf club fitting experience.
We use the latest in fitting methodology and tools and offer the best in equipment selections.
Good golf is impossible with ill fitted equipment. Let us put our experience to work for you. Better golf is just a fit away!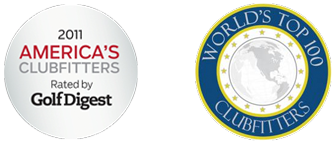 "We fit all major brands!"
Custom Fitting with Unlimited Free Lessons
We take our mantra that "Better Golf Is Just A Fit Away!" quite seriously and to further emphasize our desire to help you improve your golf, we are offering UNLIMITED FREE lessons with every fitting and club purchase!
Single length irons are now available
Doc Griffin is now working with the new Sterling Single Length Irons by Tom Wishon! Come in today and discover the massive difference these clubs can make for your game.
Hi Doc, I wanted to thank you for your help. I have played about 13 rounds since getting the clubs you made arrived in October. The driver is the straightest one I've ever had. My swing improves with each round and I am hitting very solid shots with a shorter swing. Lastly, although my swing is shorter, it is faster with less effort. I am glad I made the trip to see you in Michigan. Have a great Holiday Season.
Our Facility is in The Player's Club in Columbia, SC
(803) 798-1030    |   1624 Main Street, Columbia, SC 29201

Hi Doc,
I had a whole bag fitting session from you in June of last year and bought a whole set through you (Sterling irons with an Alpha 5W and Driver). Now that I have had plenty of run time with the clubs I just want to say THANK YOU! I was somewhat skeptical of hitting a driver with a lightweight regular flex shaft thinking it would just balloon but I kept reminding myself that you know a great deal more than me or the internet about what would work best for my swing. I must say, the results since switching to these clubs has been spectacular. I used to lose 4 to 5 balls each round just from errant tee shots. Now I hardly lose any! My scores have significantly improved, as has my confidence. I even broke 80 for the first time last fall which was a huge accomplishment for me. I am hoping to take advantage of those free lessons in June after my work slows down.  I just wanted to take the opportunity to say thank you for being so excellent and passionate about your work.
A Professional Fitting
Watch Master Club Fitter Doc Griffin as he walks through the fitting process.